How to Create a Human Resources Management System
Introduction
Dear readers, you may be already bored with what we start some of our posts with but that's just the truth as naked as it comes – technologies change the world and the usual order of things. This statement is absolutely applicable to the human resources management as well, and after reading this post you will know why it is the case.
When you are a small family business, it's not a big deal to manage all staff-related issues, i.e. store you human resources data, keep track of their vitals, monitor their performance, set performance goals and so on. It all can be done in a simple electronic table be it a desktop or a Web-based one. In fact, these actions can even be done on paper with a pen…
However, it is absolutely different for a medium and large scale company with dozens or hundreds of employees, as you may guess. A way more data needs to be stored, processed, and accessed virtually at the blink of an eye, not to speak of compiling various stats, performing various analyses, and generating various reports. Of course, all the above can be done manually be dedicated people, but since the data volumes are continuously growing it can, and it will, be quite a problem and cause data loss or corruption due to human factor and, respectively, lead to unwanted harm to the business.
In order to prevent this harm and disregard human factor, your business can employ human resource management system that can shoulder the most of HR-related routines.
According to the report by the Society for Human Resource Management, over 65% of organizations have started to use human resource management system software across the world. We see that HRM going digital will further increase the global human resources industry growth.
Our post is targeted to tell our readers about human resource management software, its types, features and advantages. We will also tell what should be done to develop a custom human resource management system project, and how high or low human resource management system software cost can be.
Key Features of Human Resource Management System
According to FinancesOnline:
"HR management software helps improve business efficiency by automating workforce, recruitment, payroll and compliance management processes, to name a few. It combines all these elements in a central location, making all employee information accessible to all relevant personnel."

Human resource management software, sometimes also known as HRIS system (Human Resource Information System), has made its way to the market as all types of businesses become aware of the benefits offered by such systems. What this software does is basically unites all recruitment and workforce management tasks under the single roof. It executes different human resource and administration processes in a centralized manner, allows assigning tasks, monitoring their performance and evaluating the progress. It also allows rewarding the best performers.

Let's see which features can be considered key for a good Human Resource Management System.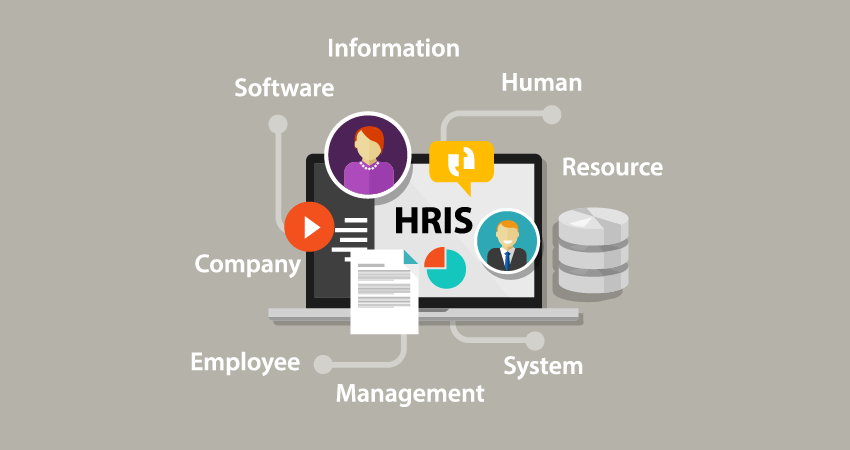 Employee Performance Evaluation
A good human resource management information system should be a node from which it is possible for business owners or managers to see how their employees perform, track their progress, set goals for the employees, and evaluate their achievements by means of personalized KPI metrics.
Employee Scheduling
Another necessary option for an integrated human resource management system is the ability to schedule attendance and shifts and know what certain employees are doing at a certain time. This feature allows to improve task assignment processes, strengthen interactions between different units of a business, and generally remove possible tensions between employees working in shifts.
Time Tracker and Attendances
With so many businesses providing time-based services, e.g. logistics services, passenger carriage, and so on, it's an important thing for business owners to track how their employees perform in terms of time compliance. HRIS allow to manage employees' attendance and/or absence at work, keep track of how they use their day-offs, mark their sick leaves etc. HR management solutions also host alert/reminder and notification functions that are very useful to better visualize the human resource performance.
Recruiting Functions and Applicants Tracking
This feature enriches any human resource management software with a capability to store and assess candidate applications, monitor the applicants activity, perform their background research. It may also contain tools to ensure smooth onboarding for new employees.
Trainings and Learning Module
A well-though human resource management solution is not just a bunch of tools to direct the workforce performance but also a means to retain true talents in a company. This feature allows to shape out various learning programs for the employees to increase their skills and make them more competitive. This will respectively lead to the employees understanding that they get some reward for their efforts in the future. Some companies have internal transition programs which require some refresher and upgrade training which, in its turn, can be managed by HRMS.
Payroll Management
Since labor payment related tasks assigned to an HR manager are error-prone the most, good human resource management software allows managing all these tasks in a computerized manner, thus eliminating 99% of errors. The software can handle such issues as paid time-offs, insurances, tax deductions, bonuses, other charges. It contains built-in tax calculators and time-sheet processing tools. This feature allows tracking all financials in relation to any business' employees.
Statistics, Analyses and Reports
It is not possible to achieve new heights in the business without being able to see and compare its performance statistics, fulfillment of surface and in-depth analyses, and, finally, generation of various business-related reports. A well-designed HRMS allows to perform all these actions without the need to use any external software applications as it has all the necessary tools in-house.
Regulatory Compliance Assurance
Human resource sector is full of requirements regarding tax payments and compliance with other regulatory acts. This feature provides access to the latest editions of the applicable tax and other laws and regulations and contains a mechanism that alerts and notifies about any material changes to such laws and regulations.
Personalization and Scalability
The more flexible a HRMS is, the more easy it is to scale it as the business grows. The best option is when the system has a modular design so you can easily add some new module(-s) to scale the solution up or drop any of unneeded ones to scale it down and save some funds. Personalization is also essential as it improves the system's ease of use and allows to change the display order of multiple features and so on.
Integrations
Ideally, a good HRM system must have interfaces to such third-party apps as accounting software, tax reporting platforms, payment platforms, report generation and printing applications and so on. Therefore, the latest human resource management programs have open APIs to connect to external applications.
Supportability
Being a complex and comprehensive platform, a normal HRIS system requires reliable maintenance and support from the side of its developer. Therefore, it must provide users with a tools to promptly request and obtain the needed help and maintenance from the developing entity.
Advantages of Human Resource Management System
Advantages of human resource management system are tightly linked to the features of human resource management system as they result out of these features.

In this chapter, we will tell how computerized human resource management systems can benefit your business.

Human resource management solutions enable better employee engagement and retention
Well-designed and developed HRM software allows preserving the right degree of balance between the company culture and remunerations and incentives for its employees. HRMS allow to keep precise records of these aspects and ensure that employees get a deserved reward.

HRMS also allow to recover the employee engagement as disengagement seems to be quite a big problem, being guilty for approx. $500 bln of per annum losses caused by employee disengagement.

Human resource management systems quicken and simplify recruitment processes
Say "farewell" to tons of separate files and applications you have used to store all the applicants data, as computerized human resource management systems allow users to easily store CVs, applications, contact data of the applicants and, generally, accelerate the whole recruitment chain.
Human resource management solutions enhance employee performance
HRM software optimizes performance of the employees via setting and storing the goals for the employees, and by providing a set of metrics to measure their achievement. This enables easy performance management and tracking.
Human resource management systems can raise employee productivity to a higher level
HRM software can be used for performing time and motion studies on the employees, allowing managers to oversee activity and efficiency of the employees.
Human resource management software simplifies employee onboarding
Thanks to HRM software, new hires are able to get more information about their jobs in a faster way and prevent multiple mistakes that relate to the human factor and data entry.
Human resource management software significantly improves training for employees
With a pack of sophisticated tools to create, edit, schedule and oversee training courses for employees, HRM software assesses their skills and compliance to build personalized trainings. It is interesting that we found large companies to be ahead in the use of this benefit compared to the small businesses, which will yet need to raise the level of their training expenses.
According to TrainingMag.com, large business from Fortune 500 spends averagely $13 mln a year to train its employees. Mid-size companies spend around $4 mln per year, and, finally, small enterprises afford as much as under $300 ths per year to train their employees.

How Much Does It Cost to Develop a Human Resource Management System?
Before answering the question about the cost of a custom HRM system, it is necessary to identify why custom human resource management software is actually needed if there are tons of commercially available solutions on the market.
In fact, COTS HRMS cannot substitute MTO solutions because of the only possible reason – they do not satisfy the business needs. Surely, there might be certain functions or features in a ready-made software, be it a desktop solution or a web based human resource management system, which can suit your needs. However, adapting such solutions to fully comply with your requirements can be much more expensive than build a completely custom software system from scratch.
Building custom HRM system is the right choice if your human resource operations are non-standard or if you work on an extremely regulated market not covered by COTS regulatory compliance features. One huge pros of building your own custom HRMS is that you won't need to pay subscription or license fees charged in case you purchase a ready-made human resource management solution.
Now, let's try to figure out how much it can cost to build a custom Human Resource Management Software Solution.
First of all, the cost will depend on the features you would want to include. The more features, the more expensive the project is.
Then you need to pick up a development company. That's where the prices vary very significantly. The price variance depends on the geography of your developer: Western companies would cost you 3x-5x more that Eastern European (Poland, Ukraine, and Russian) and up to 10x more than development agencies from India, China or other Asian states.
We would recommend to pick up a mid-market tier of developers – it will ensure fair quality at fair price.
As regards the figures, they are very different. Based on our past experience, building a fully functional HRM software can cost as low as $25,000 (a basic human resource database management system or a human resource management system for small business with a basic set of modules and features) and as high as $500,000 (a sophisticated enterprise-class HRMS with an exhaustive set of features and integrations with all possible CRM/ERP solutions).
It is up to you to decide which path to walk.
How Do We Create Human Resource Management System?
No matter what type of software we are contracted to build, we at DIGIS always follow our proprietary procedure which is very simple in fact.
The main and the most important requirement is to collect as many requirements, expectations, visions, ideas, assumptions, considerations from the customer as possible. So, requirements collection is Step 1.
Step 2 will be analyzing and sorting all the collected materials to shape a future solution out.
Step 3 is drafting and discussing the software requirements document with the customer. This is one of the most essential documents on the project: it words all the requirements to the software both from functional and non-functional standpoints. It describes all interactions between the user and the software and also between various parts/modules of the software. It also provides details on the solution security measures and on all possible integrations.
Step 4 is creating the designs for the solution. In fact, Step 3 and Step 4 flow in parallel as drafting the SRD is hardly possible without having some designs or wireframes on hands. Our design team utilizes the most common design standards and style guides to produce the most polished look and the most satisfactory user experience of our product.
Step 5 is actually developing the software. We start with an MVP and then gradually add more flesh on it to provide more functions and features. We split the development into milestones to be able to precisely track the progress and to allow our customer to have a clear vision of the current status of the project.
Step 6 is QA and bug-fixing. This increment to some extent goes in parallel with Step 5 as our developers and QA talents carry out QA checks on a constant basis along with the development.
Step 7 is final tuning and polishing of the product. We throw all our resources at this stage to eliminate all possible flaws that can occur, in order to make our software as perfect as practically possible.
Step 8 is the release to production and follow-up support. After all final QA audits and bug-fixing activities are complete, the time is to hand the ready product over to the customer. Both sides set up an acceptance team that goes through all the details and checks all the features and functions. The team then signs the acceptance certificate and the customer is free to use the developed software to increase the business efficiency.
However, it is worth saying that we are leaving away at this phase as we care about our customers' success. At least at the initial post-production stage we provide our support to help our customers deploy the solution, test its operation in real life conditions, and make appropriate changes/corrections if necessary.

Sum Up
Well, you are now familiar with what a human resource management system is, which benefits it provides for businesses, how much its development from scratch costs and what the standard project looks like.
Now it is time to wrap things up.
We believe that despite the availability of multiple options of ready-made human resource management solutions on the market, building your own, custom HRMS will provide a lot of benefits to your business. You will get exactly what you need, with no expensive but unneeded features. You won't need to pay any subscription or licensing fees till the end of the times. You will be able to quickly scale your system up or down depending on the business situation and needs. Finally, you will be able to see how the money you have invested into developing your own HRMS is paid back in the form of savings on HRM routines and boost to your business performance. However, if you are still not sure which path to choose and whether it is worth to build such a solution, feel free to reach out to DIGIS. We have been helping businesses get rid of their concerns and fears for over a decade already. You will get our professional advice on the issues you are most worried about.